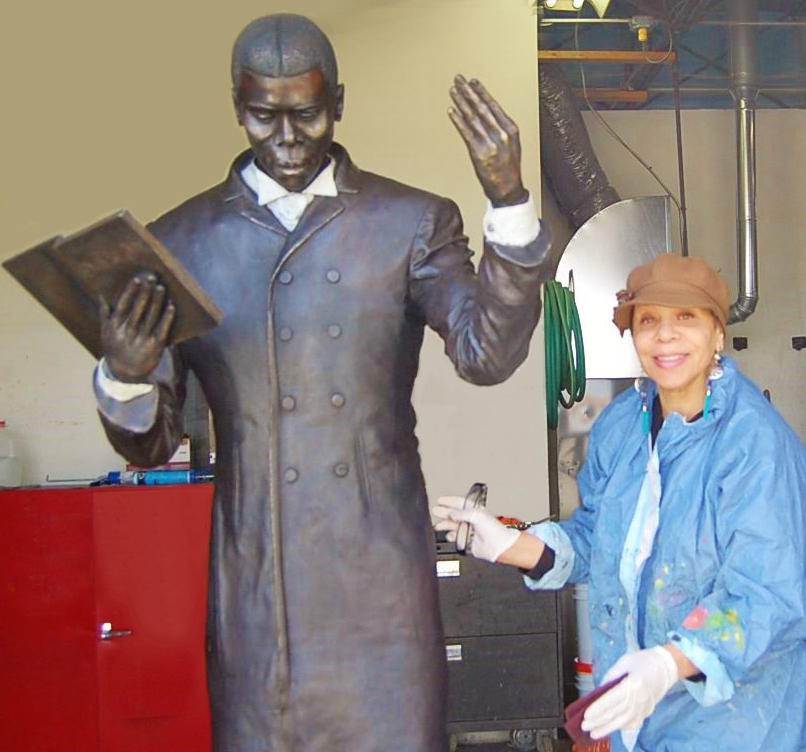 About the artist and writer Debra Hand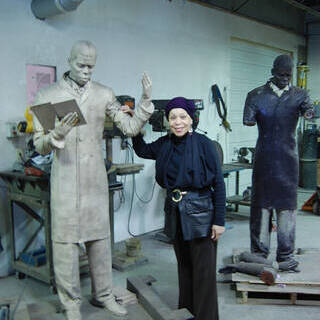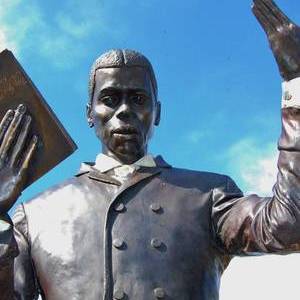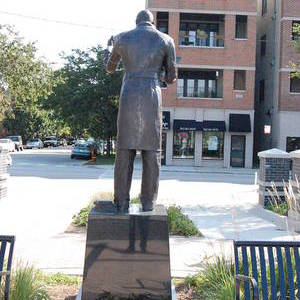 ---
---
---
---
email for inquiries to handstudios@aol.com
About the Artist Debra Hand
Debra Hand is an artist and writer. Her work is in the collections of the Smithsonian Anacostia Museum and the DuSable Museum. She was just chosen by Clientele Luxury Global Magazine as one of their "Awe Inspiring Creative Artists of 2021.
In 2012, Hand was commissioned by the City of Chicago and Chicago Park District to create a life-sized bronze statue of the historic writer and poet Paul Laurence Dunbar, for Dunbar Park in Chicago. The statue was unveiled in 2014, and is 9 ft. including the solid granite base.
Among the many history makers who own her works are...
Former President Barack Obama; former astronaut, Mae Jemison; Oprah; Harry Belafonte; Smokey Robinson; Yo-Yo Ma; Magic Johnson; Hillary Clinton; Stedman Graham; Spike Lee; Baby Face; Seal; LL Cool J; and Chicago luminaries sculptor Richard Hunt; Cheryl Burton, Dwyane Wade; Deloris Jordan, Barbara Bates, Louis and Diane Carr, Melody Spann-Cooper, and Chris Gardner, to name a few. The late Cicely Tyson; Dr. Winnie Mandela and Dr. Maya Angelou also owned her work.
In 2019 she became a contributing writer for Black Art in America, one of the nation's leading online magazines and educational portals for African American art.
Debra Hand has a Master's of Science and Engineering Degree from Northwestern University's McCormick School of Engineering. She has worked and taught extensively in the area of data transmissions infrastructure and technology. .
She is a self-taught artist and writer who began her journey in the arts with the very basics: a writing pad, watercolor set, and a paint brush. Through years of determined self-instruction, she worked her way into a prestigious career filled with accomplishments. She was being chosen by the City of Chicago to create a life-size bronze statue to honor the life and legacy of Paul Laurence Dunbar.
She has written, directed , and edited several episodes of the H30-Art of Life Show on CAN-TV, including two documentaries. The one hour, 2005, documentary, titled "Katrina 101" documented and narrated the struggles of three Hurricane Katrina survivors who had been left behind in New Orleans during the storm. Another one hour, 2004, documentary featured the collection and book launch of "African Art: the Diaspora and Beyond" by Daniel T. Parker ) and included the oral histories of the collections' artists.
Debra Hand has written several YA and children's books, has self-published 2 of them, "Fruit Takes Over" and "Small Street Brokers" a novel incorporating financial literacy. And she is currently working on 3 novels and 4 screenplays that are in various stages of editing. She has also written numerous poems.
Coincidentally, it was Dunbar's poetry that gave Hand her first glimpse of an African American writer. As a child, Dunbar's poetry had been read to her by her mother. It was only later, during the research phase of Hand's Dunbar statue, that Hand learned Dunbar was the very first African American in history to reach international acclaim as an author and poet, and to make his sole living as a writer.
Historical figures seem to show up often on Hand's artistic journey. She was personally mentored by the late Dr. Margaret Burroughs, principal founder of the historic DuSable Museum which, likewise, was the first museum in the nation that was entirely devoted to African American history and culture.
Burroughs, a famous artist and writer who devoted her life and art to serving humanity, encouraged Hand to keep this principle at the forefront of her work. To this day, it is a legacy that Hand proudly follows. Whether she is writing or creating art, she uses storytelling in all its forms to encourage younger generations to find value in themselves, and to encourage understanding between diverse groups in hopes of engendering a more inclusive society for everyone.
Debra Hand is often commissioned to create works honoring those who have made significant contributions to American History.
She has won numerous awards including "Best of Show" at the Museum of Science and Industry's Black Creativity Exhibit, and was the Chicago winner of the Bombay Sapphire and Rush Philanthropist's "Next Greatest Artists" contest. She was honored with a "Black Excellence" Award by the African American Arts Alliance, and named one of the Chicago Defender's Top 50 Women of Excellence. In 2016, she was presented with an Egretha Cultural Icon Award.